Learn more about how to get your organization started with Lyft Business in both the United States and Canada.
In this article, we'll cover:
---
Getting started with Lyft Business Canada
The Lyft Business solutions that you've relied on to move your people are now available in the greater Calgary, Edmonton, Toronto, and Vancouver areas, with plans for expansion into other Canadian cities. We currently offer both Concierge and Lyft Pass solutions in these areas. To get started:
Sign up for

Lyft Business

and

create an account

Sign a Lyft Business contract to use our services in Canada
Once you're approved, our team will then grant you access to turn on Canadian rides
Note: If you are an existing Lyft Business customer, your organization will first need to sign Canada-specific business terms before being able to enable rides in Canada. Please reach out to your account manager for additional information.
---
How to turn on rides in the United States and Canada
When creating or editing a program, scroll down to the "Ride restrictions" section
Select multi-country preferences
Ensure that the "In Canada" button is checked to enable Canadian rides


---
How to set up billing and reporting
When enabling Canadian rides for a program you will be prompted to select a payment method or an invoice group to use for your Canadian rides. If you would like both CAD and USD usage from a single program with different entities, separate billing addresses on one invoice group may be used. Rides taken in Canada will be billed to you in Canadian dollars (CAD).

The Insights page and Transaction reports will have distance in km. Canadian-specific tax and regulatory information broken out per ride:
Goods and Services Tax (GST)
Harmonized Sales Tax (HST)
Driver information
Distance (km)
You can also filter by specific country and currency by selecting the filters at the top of the screen or the settings widget.
---
What else has changed?
Lyft Business Home Page
For organizations who have enabled more than one country, you will see your spend by currency. Organizations enabled for only US or CA will not see currency displayed.
Concierge programs
When creating or editing a Concierge program, select where you want your coordinators to request rides. This feature is only visible if your organization is enabled for multi-countries. Programs will default to the country your organization is already contracted for. Currency is assumed as local for all financial reporting. New programs will default to both US and CA enablement.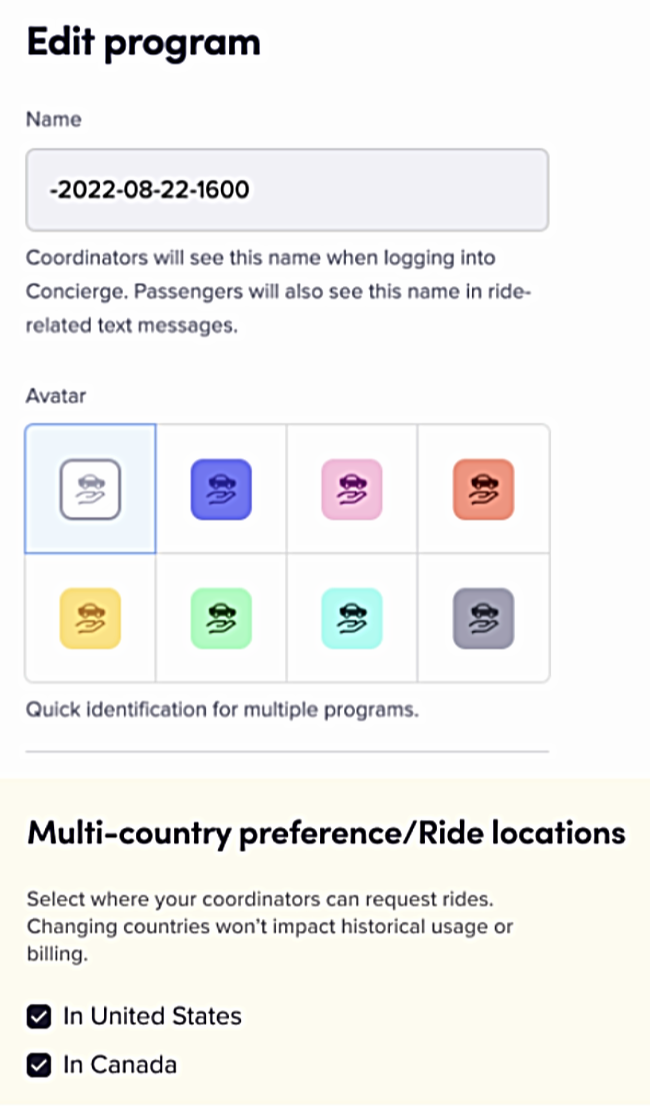 ---
FAQs
Can I use US coupons for CA rides?
No, USD coupons can only be used for US rides and CAD coupons for CA rides.
Is there anything I need to do to use Lyft Business services in Canada if I currently access those services via an API?
Once API customers sign Canada-specific business terms they should be able to start requesting rides in Canada. Please note that price estimates and ride costs for Canadian rides will only be rendered in CAD. Review our developer docs or reach out to partner-api-support@lyft.com if you have any questions about the API changes.