It's easier than ever to move your people with Lyft Concierge. Send, schedule, and monitor rides all from one central portal.
---
How do I log in to Concierge?
Visit www.business.lyft.com/concierge and log in using your work email address that has been granted permission to Concierge.
---
What are the benefits of Concierge?
1. An intuitive, easy-to-use form for sending rides
The ride request form in Concierge is split into two separate steps. To start a ride request, click the 'Request' button in the top left corner of the screen and enter the following details of the ride on the first page of the form:

The rider's first and last name

The rider's mobile number

The rider's preferred language

The pick-up address

The drop-off address

(Optional) Add a pickup note for the driver
The pickup and drop-off locations will be displayed as pins on the map on the right. You'll also find the upfront price and estimated distance in the top left corner of the map.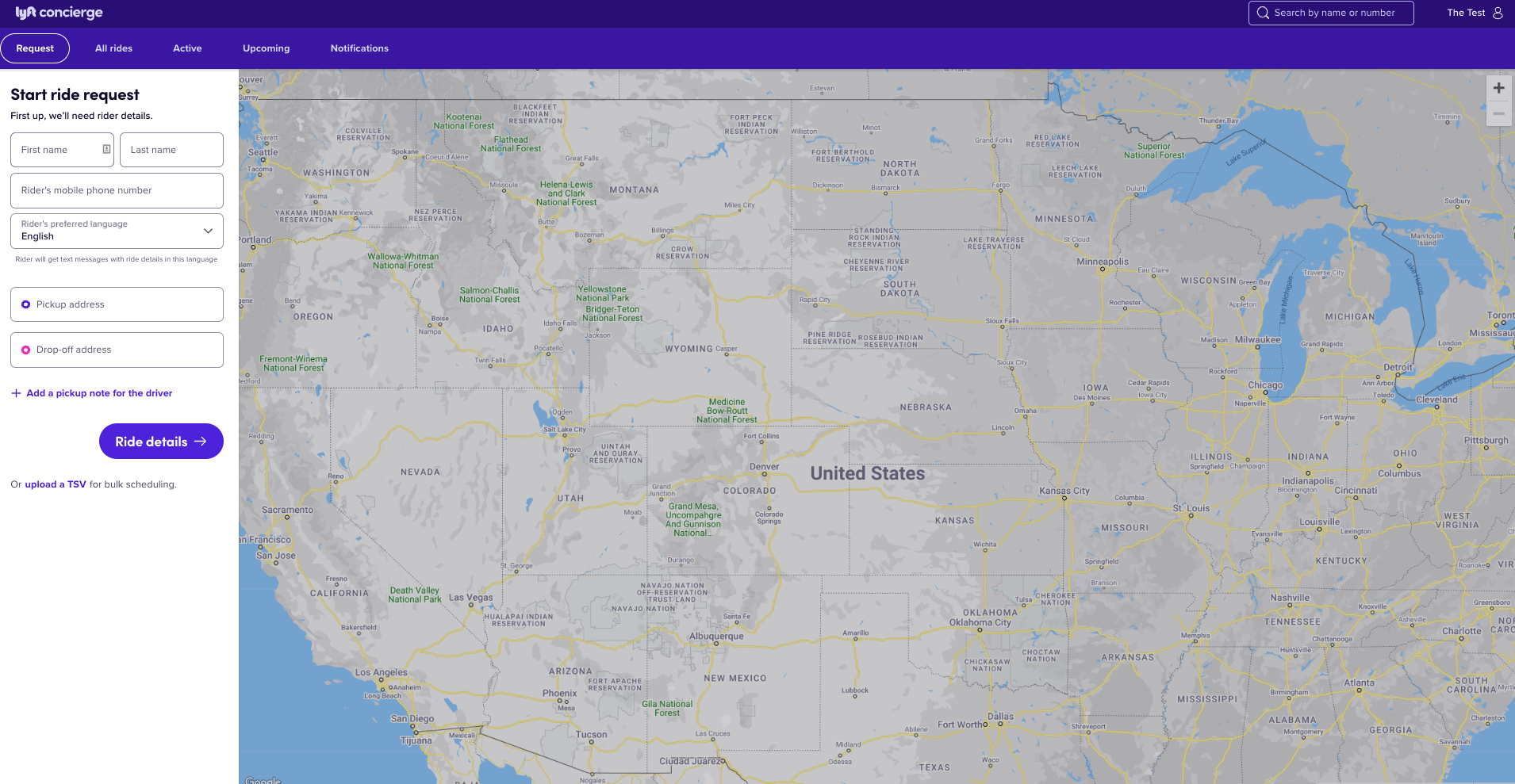 When you're done entering in the details, click the purple arrow to move on to the second page of the form. You can request an on-demand ride, schedule a ride for a future date or send a flexible ride.

For on-demand rides (when 'Now' is selected as the pickup time), coordinators can see the nearest drivers on the map and the estimated pickup time before requesting the ride.
Next, select the ride type: — Lyft, Lyft XL, Extra Comfort, etc. The cost is displayed for each ride type so you can select the option that works best for your rider. You can also select here to include an optional tip for the driver.
Lastly, you can select Wait & Save, Priority Pickup or Preferred for your rides.
Wait & Save is Lyft's most affordable ride mode for non-time-sensitive rides. In exchange for your riders being willing to wait to be matched with a driver, you'll get lower prices.

Priority Pickup is for riders in a hurry. For a fee, priority pickup offers riders a faster ETA than a standard ride. On average, priority pickup is $5 more expensive than a standard ride.

Preferred is for riders who would like a newer, more spacious car with a top-rated driver.
You can include an optional internal note for your organization's own records by clicking '+ Include an internal memo'. This internal memo is just for your team and is never seen by the driver or rider.
Now, you're all set — click 'Request ride' to complete your requested ride!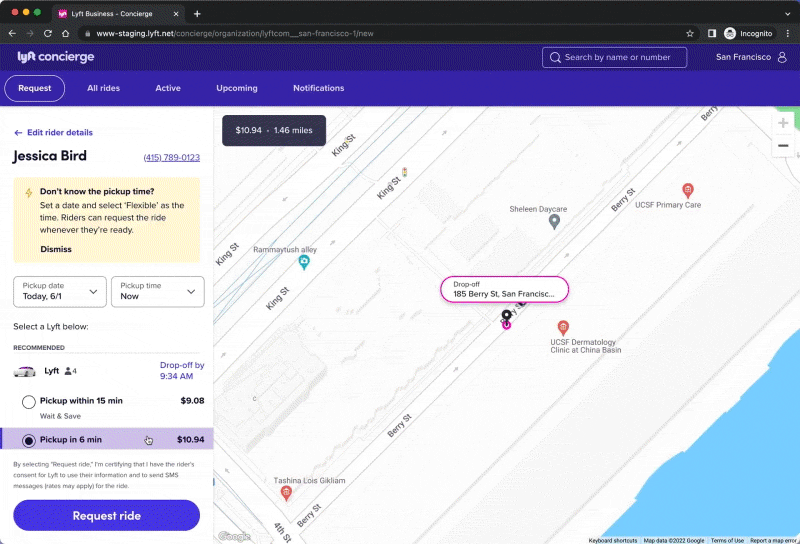 2. A navigation bar to monitor your organization's rides and find the information you need, faster.
Use the navigation bar to quickly and easily start a new ride request, view current rides, and fix any issues that may come up. The top navigation includes the following four tabs to see your rides:
All rides

: an overview of all of your program's completed rides and rides currently in progress and their current status in a single list

Active

: filtered view of only the rides that are currently in progress

Upcoming

: all future scheduled & flexible rides

Notifications

: this will inform you of a ride cancellation or a scheduled ride that has failed to dispatch. These notifications will appear for all rides requested by the program's admins. In the event that a ride is canceled or fails to dispatch, you will receive an error message in the Notifications tab explaining the reason behind this.



3. Ride cards provide one central view of ride details and quick actions for a ride
When you select a ride from the ride list, a ride card will appear to provide fast access to important information about the ride, including its status and the vehicle/driver information. If you need to see additional details about the ride, just tap 'Show ride details' on the ride card to expand it and view all other relevant details.
You'll also be able to use four action buttons directly on the ride card to quickly:
Cancel

Request again

Schedule return

Contact Support
4. Full Tablet and mobile support to access Concierge on the go
Lyft Concierge now works on tablets, so you can request and manage rides no matter where you are. Smartphone support is coming soon!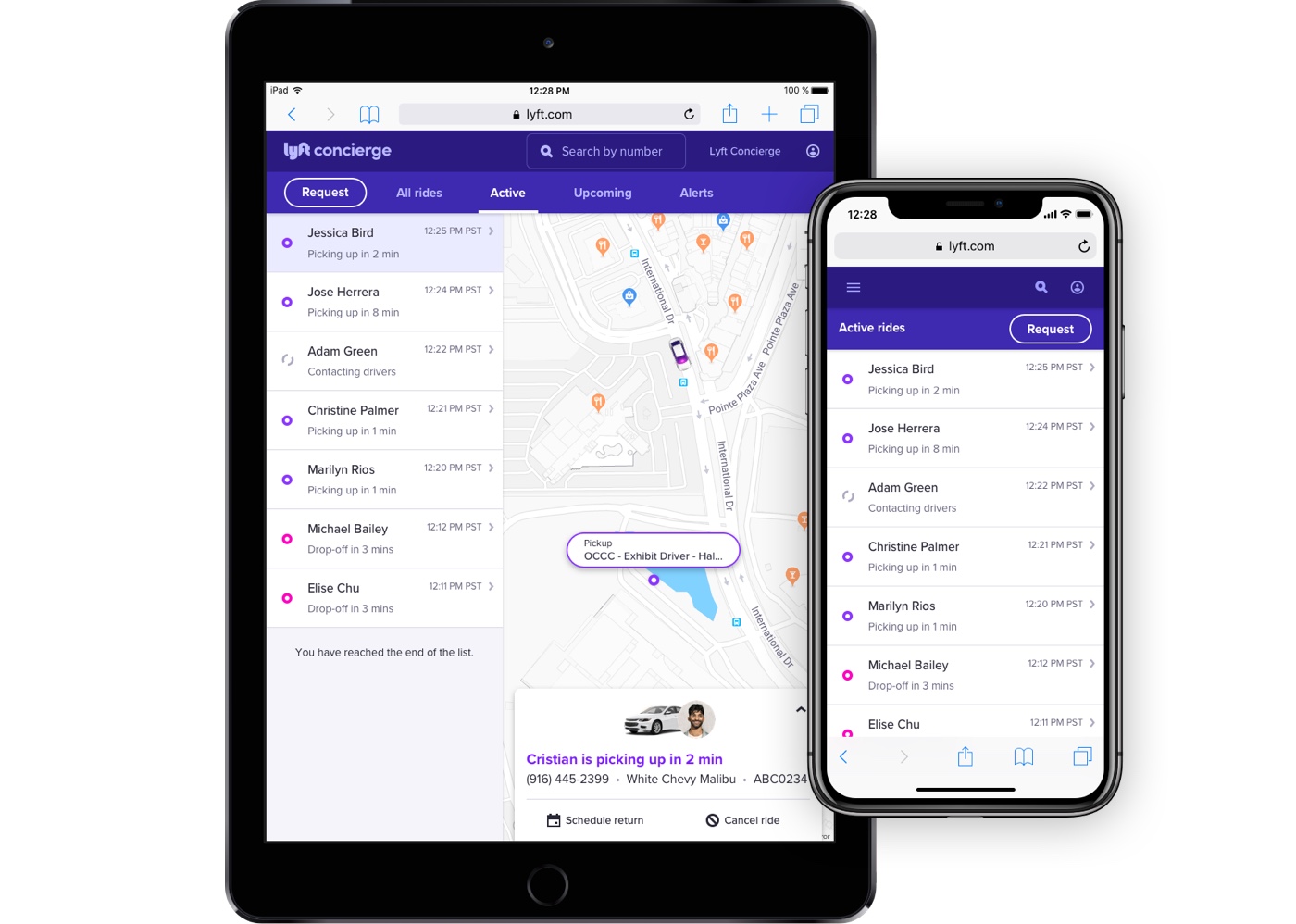 ---
FAQs

How do I search for past rides?
Search is available at the top of the page for looking up past rides anytime. You can search using the name of the rider or the complete mobile phone number (including area code) that was entered to request the ride. Learn more


How do I log out of Concierge?
To log out of Concierge, click the arrow icon in the upper righthand corner. You'll be asked to confirm if you want to log out — click 'Ok' to proceed.


What do I do if I can't log in?
Please ensure you are attempting to log in with the same work email address you have previously used to log in to Concierge. If you are still experiencing log in issues with that email address, please contact us for support.