Lyft Pass lets organizations cover all or a portion of the cost of rides for their people, while controlling the usage and cost of each program. Create a new Lyft Pass program directly from the Lyft Business Portal. You can:
Set the budget

: Determine how much of each ride you'll cover and the total budget for the program. There is no minimum required to sign up for Lyft Pass

Set ride rules

: Control where the ride picks up and drops off, what ride type is used, and when it can be used

Share with ease

: Ensure your people benefit from Lyft Pass by sharing via email, phone number, code, or direct link

Get visibility

: Easily monitor usage and spend with reporting

In this article, we'll cover:
---
What types of programs can I create with Lyft Pass?
Lyft Pass allows you to customize your transportation programs to who is taking the rides and how they use the pass. Common use cases for Lyft Pass programs include:
Commute credits


: rides to or from the office Monday through Friday during commute hours

Campus shuttle

: 
rides between buildings for employees or students

Emergency rides

: rides for employees when they need it

Customer rides

: rides for customers to or from your business

Interviews


: rides for job applicants to or from their interview

Late night


: ensure employee safety with rides home in the evening

Event or conference


: limited-time rides to or from an event venue

Create your own


: customize your own ride pass based on your unique use case
---
How to create a Lyft Pass program
Log in to the Lyft Business Portal

Select

Lyft Pass

in the left navigation bar

Select

Programs

Select

+ Add Program

in the top-right corner to create your new program

Preliminary program details
Enter a name for your Lyft Pass in the

Name

field

Enter a short description of the program in the

Description

field—the description only displays on the

Programs

page in the Lyft Business Portal to help you quickly identify your programs. Riders won't see the description in their app and you'll be able to customize how your program looks to riders later.

Select the type of benefit:
One-time Lyft pass: Ride passes that expire or don't renew

Monthly recurring Lyft pass: Passes that renew every month

Basics
Under Basics, choose the benefit type, duration of how long the pass is valid for, and sharing options for distributing Lyft Pass to your riders.

Benefit Type
Select

Add amount

in the

Benefit type

row and select the benefit that works best for your needs
Credits

: Like cash, credits can be used on rides until the amount is $0. There is no limit to the number of rides that the user can use the credit on. Enter in the dollar amount of Lyft credit that the pass will be good for in the

Amount

box (i.e. $50 can be used on any number of rides—one $50 ride, two $25 rides, or five $10 rides).

Rides

: Offer a specific number of rides where the cost of the ride is covered up to a specific amount. Unused credits will not roll over to the next ride. Enter in the maximum number of rides that the pass will cover in the

Number of rides

box, as well as the maximum amount of the ride cost that will be covered in the

$ Max per ride

box (i.e. 10 rides, up to $15 each)




Duration (one-time ride pass only)
The ability to set a duration is only available for one-time ride pass programs. This is due to recurring ride passes renewing automatically on a monthly basis.
Select

Add duration

in the

Duration

row to choose when your rides can be used and when they expire
Select a Start date, Start time, End date, and End time

Consider leaving extra time before and after. For example, if you have an event that lasts 7-9 PM, you might set the duration to 6:30-9:30 PM for your guests to travel. Note: the duration should include the time the rider is picked up, not the time the ride is requested.
Start time can be changed to an earlier or later time after the program is created, as long as the program has not already started

End time can be changed to a later time after creation

End time cannot be changed to an earlier time after creation on the Business Portal, but it can be changed to an earlier time by request
Sharing options (one-time ride pass only)
You'll have different sharing options depending on the type of program you're creating.
For one-time ride passes, you can share via phone number, work or organization email, or general or unique shareable codes.
For monthly recurring passes, you can share via phone number, work or organization email, or general shareable codes which will enable a QR code option to share.
Select

Sharing Options

to choose how to share your passes:

Phone number

: Share Lyft Pass directly to riders' Lyft accounts. We recommend using this for anyone not in your organization

Work or organizational email


: Invite riders to join your organization and redeem their pass by email. If their email is connected to your organization, the ride pass will be automatically sent to their account in the app. We recommend using this for employees. You will add a list of emails to share Lyft Pass with after the initial program set up

Shareable codes: You can also share Lyft Pass using a shareable code or link that your riders can redeem in their Lyft app. Select Show options for links and codes

General shareable code, link, and QR code

: This is one code or link that can be redeemed by anyone that has it and is best for easy sharing. Enter the maximum number of times the code can be redeemed in the

Claim limit

box, as well as the alphanumeric code of your choice between 3 and 16 characters in the

Code box. This will also enable you to use QR codes as a sharing method. QR codes enable Lyft Pass admins to distribute program benefits via a printed QR code. Follow these steps to start using QR codes for your organization:

Go to the Lyft Business Portal
View your ride program
Right click the three vertical dots and click Edit
Under Basics, go to Sharing options and click Show options for links and codes
Click General code, link, and QR code
Click Publish to save changes
View your ride program and you will see the QR code under Sharing options
Click Share passes then click Download QR code
Now, you have a pdf of the QR code that you can print and display
To redeem these credits, your employees just need to scan QR code from their standard camera app. Then the credits can be added to your employee's Lyft app account.
Unique codes: This is a list of custom codes that can be claimed by only one rider each and is best for sharing securely. Enter the number of codes you want to create in the Number of codes box, as well as a code prefix in the Code box. This is where all of your custom codes will begin with the prefix followed by 6 randomized characters

Please note that the way you share your passes may change which restrictions you can update later.
Learn more
about managing and editing existing programs.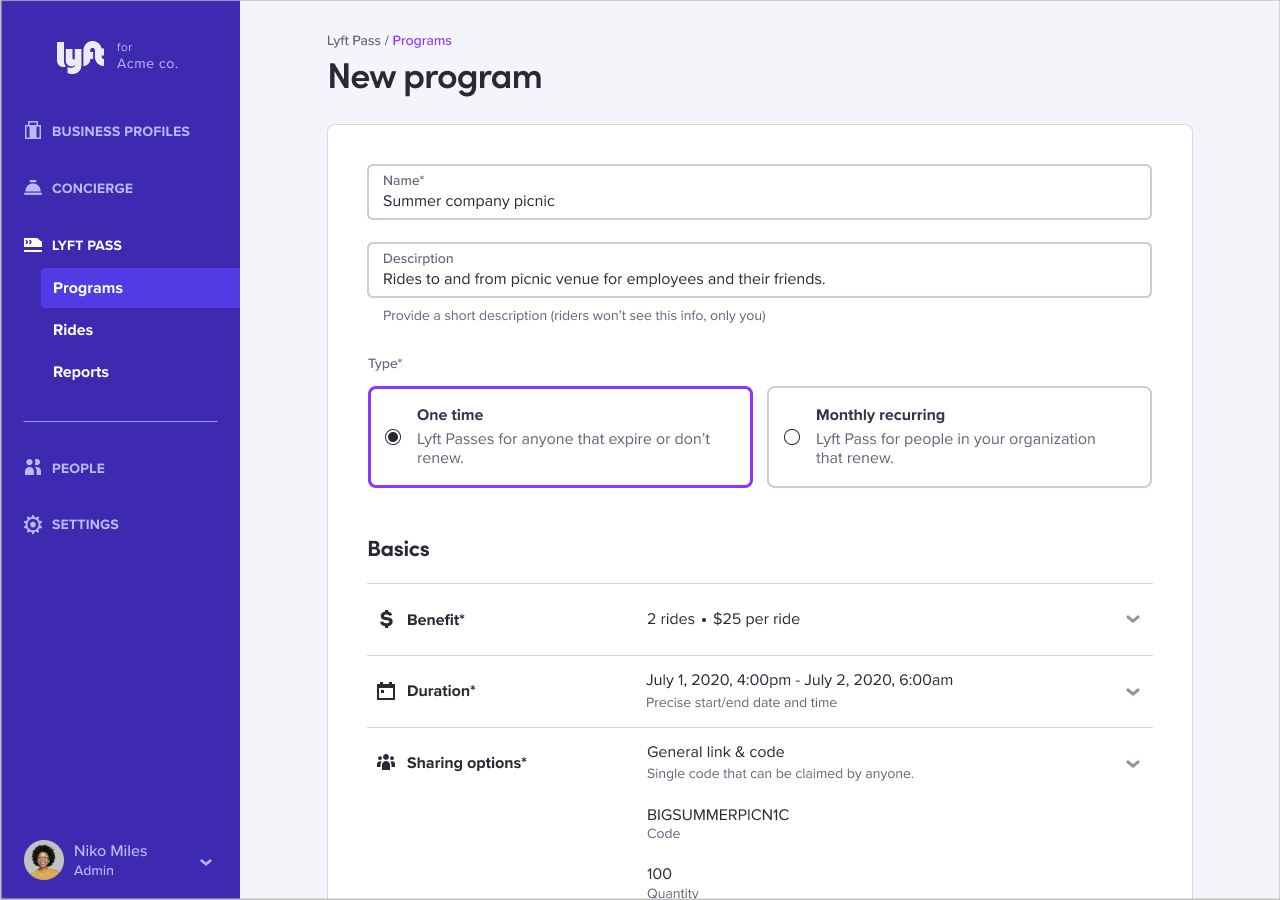 Ride restrictions
Under Ride restrictions, you can set time windows, location restrictions, and ride type restrictions for Lyft Pass rides
Time windows
Select

Time window

to choose what time your Lyft Pass rides can be taken:
Anytime: no time window

Weekdays: Monday through Friday, 12:00 AM-11:59 PM

Custom: Set your own days and time window. Select the start and end time and days of the week your Lyft Pass rides can be taken. If you do not need a start and end time, check the box for

All day

(12:00 AM-11:59 PM). You can also add more than one time window if you'd like Lyft Pass to be valid during multiple specific times throughout the day

Locations restrictions
Select

Ride locations

to choose the location restrictions of where your Lyft Pass rides can be taken:

Anywhere

To or from locations

Between locations




If you select

To or from locations

or

Between locations

, select

+ Add location

and enter in the location's name, address, and the radius in miles around the location that riders can be picked up or dropped off. Click

Add

once you're done

and repeat these steps for the rest of the locations you'd like to add
Note: Multiple stops are permitted with a "to or from" location restriction, but are not permitted in programs with "between" location restrictions.
Ride type restrictions
Select

Ride types

to choose the ride type your Lyft Pass rides can be taken in

Select

Allow all ride types (cars, bikes and scooters)

if you do not need a ride type restriction

Select Allow all care modes if you'd like to restrict Lyft Pass to cars only (no bikes and scooters)

Select Allow all bikes and scooters if you'd like to restrict Lyft Pass to bikes and scooters only (no cars)

Select Customize if you'd like to mix and match specific ride types:

Shared:

More affordable option with longer wait times (temporarily unavailable due to COVID-19 health safety restrictions).

Lyft:

A personal ride to get you to your destination quickly. Fits up to 4 people.

Lyft XL:

A supersized ride when you need more space. Fits up to 6 people.

Lux Black:

A black car for the ultimate luxury ride. Fits up to 4 people.

Lux Black XL:

A more spacious black car, offering a luxury ride for up to 6 people.





Additional settings
Under 'Additional settings,' you can choose reporting settings, customize communications sent to your riders about your Lyft Pass program, and view the payment method associated with this program.

Reporting settings
Select

Reporting

to choose the cadence that you'd like to receive emailed reports about the usage of Lyft Pass. Toggle the button next to cadence that best fits your needs:
Monthly (automatically enabled)

Weekly

Daily
Enter in an email address to receive the emailed reports in the
Report recipient email address
field
You cannot change the reporting cadence and email reporting recipient for one-time ride pass programs that are already live.

Rider communication
Select

Rider communication

to customize how your Lyft Pass appears to riders in the app, emails, and text messages

In the

Organization name

field, enter in the name of your organization that you would like the rider to see. If this field is left blank, the rider will see the name of your organization that is in your Lyft Business Portal by default

Tip: If you'd like to confirm what the name of your organization is in your portal, click

Settings

, click

Organization

, and look under

Organization name

In the

Pass name

field, enter in the name of your program that you would like rider's to see. If this field is left blank, riders will see the same name that you have already chosen for your program by default

Under

Logos

, select either a default logo or contact support to upload your own.

Read our guidelines to ensure your logo meets the requirements for formatting and size. Once your personalized logo is uploaded, you can add this to any Lyft Pass program you'd like.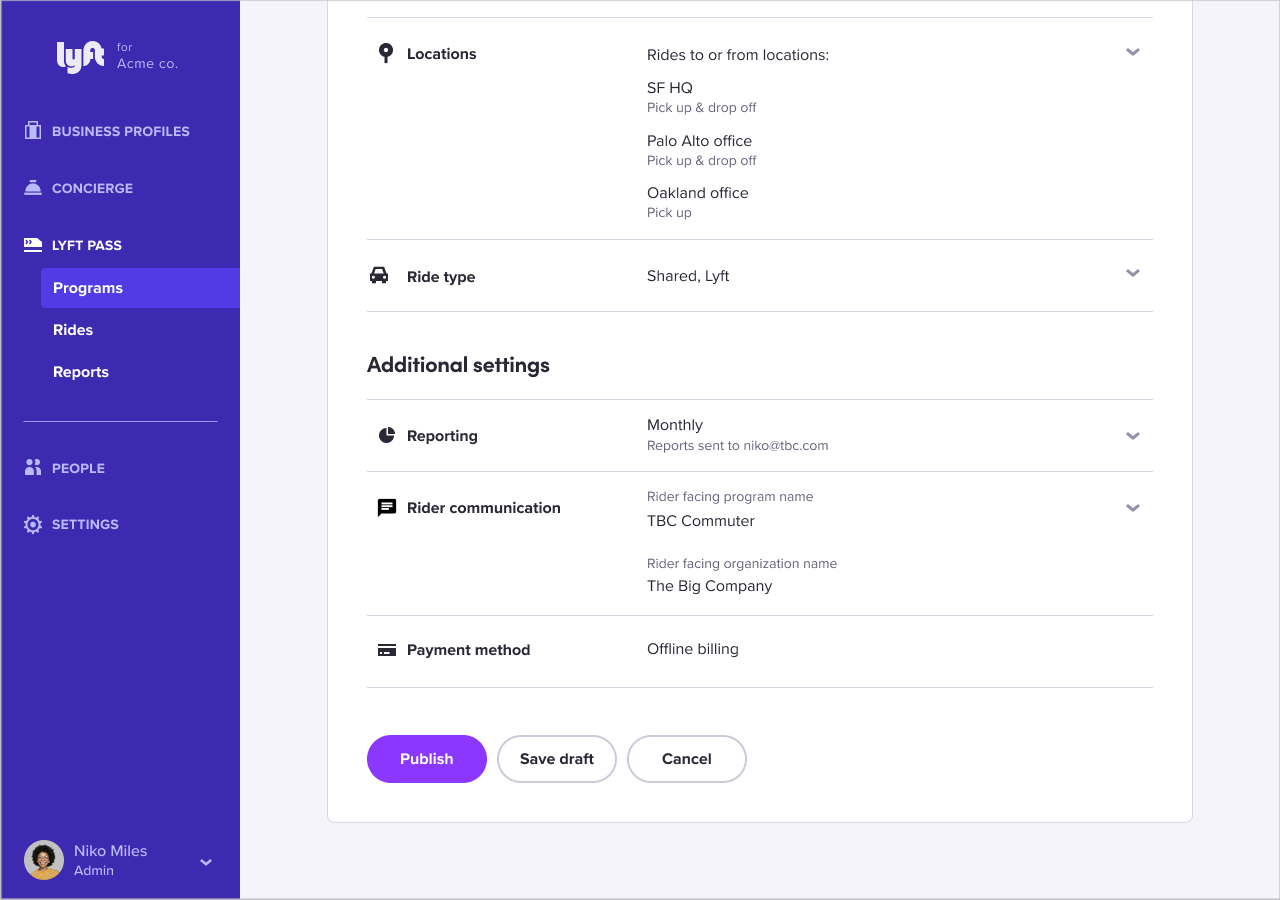 Payment method
Currently, there are two supported payment methods for Lyft Pass programs:
Automatic monthly accrued billing — rides will be charged to the specific Lyft Pass program's assigned credit card on a monthly basis after
Offline billing (monthly invoicing) — the total accrued cost of each month's rides are invoiced at the start of the following month

For organizations with offline billing enabled: Learn how to update your offline billing information here.
Please connect with your sales representative to determine the best payment method for your needs.
---
Saving your Lyft Pass program
Once your program has been customized to your needs in all of the above sections, click Publish. If you are not ready to publish the program, but would like to save it for future editing, select Save draft.
Now that you have finished creating your Lyft Pass program, learn how to share Lyft Pass with riders.
---
Copying your Lyft Pass program
Need to create another program with the exact same settings? Easily copy any program you've created so you don't have to manually select each setting again.
Only the settings of the program will be copied. You'll need to distribute or invite people to the cloned program and people in the original program won't receive double benefits from the cloned program.
To copy a Lyft Pass program:
Select Lyft Pass from the left navigation bar in the Lyft Business Portal and select Programs
Select the program that you'll be duplicating
Select the 3-dot icon in the upper right corner next to Share passes or Add people
Select Copy